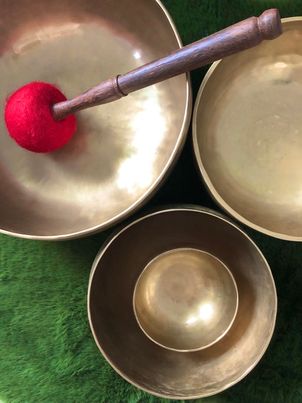 Sound Bath
Journey into the healing powers of sound
Deep relaxation
Recharge your energy levels
Tibetan and Crystal Chakra singing bowls
Journey into the healing powers of sound. As Winter is definitely here now we can probably all use some relaxation and recharging. Sound Bath sessions are suitable for everyone who are ready for a deep relaxation and recharge their energy levels.
During the session Tibetan and Crystal Chakra singing bowls as well as a Gong and other instruments are being presented. These are the ideal instruments that emanate the right healing frequencies. This way they are the most adequate, non-invasive vehicle, to achieve human body, mind, spirit and soul equilibrium. A Sound Bath concert is healing, offering deep relaxation to the body. Singing bowls naturally harmonize and purify. The sounds and vibrations of the singing bowls work deep in your body and can thus restore the body's own vibration and frequency. This way physical and mental complaints can be restored.
WHEN: Sunday 5th February
TIME: 7.30PM-8.45PM
FEE: 18 euros (tea included :-))
What to bring: comfortable clothing and an open mind.
Mats, pillows and blankets are available in the studio and free to use.
Make sure to reserve your spot in advance and sign up in two steps:
For any questions please reach out to info@studio-108.nl
About Anett Nyerki:
'I spent my childhood & teenage years in Asia, specifically in Vietnam & Indonesia, where I became fascinated by Buddhist temples and the influence that many spiritual practices placed over Asian cultures. When I reached my mid-20s, I began to embrace alternative paths of knowledge and well-being and encouraged me to find ways to incorporate them in our modern western society. Early exposure to healing practices opened my curiosity to define my own way of helping people to become whole and balanced.' https://soundhealingforlife.com/